Inositol hexaphosphate, a vitamin supplement, included in the complex of B vitamins. It is important for the smooth functioning of the nervous and muscular system and hair growth. It helps prevent hardening of the arteries and it is important for the formation of lecithin. It also assists in the removal of fats from the liver.
Many studies have demonstrated its beneficial properties to good liver function and protection from various defects that can be caused by alcohol and other hepatotoxic substances and drugs metabolized by the liver. Also there have been studies showing the valuable antioxidant and generally its beneficial properties prostate problems. (hyperplasia, inflammation, etc.). The studies published in various international magazines and you find them below.
Dosage: Two capsules once or twice daily on an empty stomach.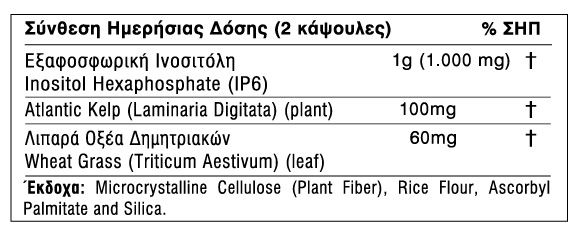 ΙP-6:
1) Dietary influence on pancreatic cancer growth by catechin and inositol hexaphosphate. J Surg Res. 2007 Jul;141(1):115-9. PMID: 17574044.
2) Enhanced killing of androgen-independent prostate cancer cells using inositol hexakisphosphate in combination ,with proteasome inhibitors. British Journal of Cancer (2008) 99, 1613 – 1622.
PMID: 18941459.
3) p21/Cip1 and p27/Kip1 Are Essential Molecular Targets of Inositol Hexaphosphate for Its Antitumor Efficacy against ,Prostate Cancer. Cancer Res 2009; 69: (3). February 1, 2009 1166
PMID: 19176374.
4) Fermentation supernatants of wheat (Triticum aestivum L.) aleurone beneficially modulate cancer progression in human colon cells. J Agric Food Chem. 2010 Feb 10;58(3):2001-7.
PMID: 19954215.